SEALING AIR LEAKS IN YOUR ATTIC
Sealing air leaks can dramatically improve the energy efficiency and comfort of your home and save you money all year round. Sealing air leaks in your attic includes finding and filling gaps and cracks between living spaces and your attic with an expanding insulating foam sealant.
There are several ways air can transfer from your attic down into your living spaces or from your living spaces up into your attic. Sealing those gaps and cracks with insulating foam blocks the airflow, both ways.
It is especially important in cold climates, when doors and windows are kept closed for months on end, to block hot moist air generated from cooking, cleaning, showers, and baths from penetrating the attic. Hot moist air flowing up into the attic can condense and build upon attic surfaces leading to wood rot, mildew, and mold growth. Rotting wood that supports your roof can lead to costly roof damage. And mold can spread to living spaces over time.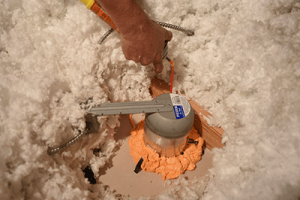 COMMON ATTIC AIR LEAKS & GAPS



Canned (recessed) lights
Bathroom Exhaust Fans
Ceiling Fans
Light Fixtures
HVAC Duct Boots
Sill Plates
Electrical Wiring
Duct Work
Pipes
Vent Stacks
Flues and Chimneys
STANDARD INSULATING FOAM SEALANT VS. FIREBLOCK INSULATING FOAM SEALANT
Many homeowners and several contractors will typically use standard insulating foam sealant. While this may do the job of blocking air flow, most common insulating foams are not fire retardant and not ideal around electrical components and canned lighting. For example, older halogen canned lights can get up to 300 degrees and may present a fire risk. A fire block insulating foam sealant will not only seal air gaps around canned lighting and other electrical components, it also provides added protection against excessive heat and fire.
HIGH-QUALITY FIRE BLOCKING INSULATING FOAM SEALANT FEATURES INCLUDE:
Provides an air-tight, water-resistant seal
Impedes spread of fire and smoke through service penetrations
Tested according to ASTM E84,
ASTM E814 (modified), UL 1715
Seals service penetrations between floors
Seals electrical runs through wall studs
Fills, seals and insulates gaps up to 1/2"
UL classified
WORTH THE ADDED COST
Fire block insulating foam sealant is all we use to seal all attic air leaks. The slight extra cost is easily justified given the added protection and fire blocking capacity of the insulating foam.
THE ATTIC EXPERTS
We are The Attic Experts we offer insulation and attic ventilation service, air leak sealing, bathroom exhaust fans, roof venting, attic fans, whole-house fans, and more. Call us for a free attic inspection today at 630.941.3800