HERE IN THE MIDWEST, OLDER HOMES MAY HAVE ASBESTOS INSULATION
Asbestos Insulation under the name of Zonolite, the trademarked name of a product, was mined in Libby, MT, and sold as attic insulation between the 1940s and mid-1980s. Consisting of the naturally occurring mineral vermiculite, Zonolite was used for decades to insulate millions of American homes, including many in the Chicagoland area.
ZONOLITE CONTAINS ASBESTOS
Homeowners with older vermiculite attic insulation that looks like cork or particles (see image to the right), beware your insulation may be contaminated with asbestos, a cancer-causing material.
WHAT DOES ZONOLITE LOOK LIKE?
Zonolite attic insulation is typically gray-brown or silver-gold in color, consisting of a pebble-like texture. Part of its popularity within the construction industry stemmed from the fact it was lightweight and fire-resistant.  (See photo)
DO NOT DISTURB SUSPECT INSULATION
Do not disturb the insulation if you suspect you have Zonolite or if your insulation looks anything like the picture to the right. Instead, contact The Attic Experts or another experienced professional company to obtain a sample of your insulation for testing.
CALL ON PROFESSIONALS
If your sample tests positive for Zonolite Attic Insulation, a trust fund has been set up to help homeowners with abatement costs up to $4,000.
Please watch the following video compliments of ZAI Trust.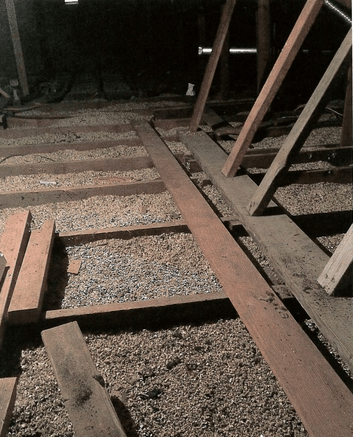 Visit the ZAI Trust Site Here:  Click
You may also contact The Attic Experts for guidance at 630.941.3800
Serving Chicago & All Suburbs!