KEEP YOUR HOME COOLER FOR LESS THIS SUMMER!
Cutting your home cooling cost in summer starts with assessing your attic! Your attic plays an important role in keeping your home cool and your cooling costs in check.
SIGNS OF TROUBLE IN YOUR ATTIC
Rooms that cool slowly and are difficult to keep cool
Uncomfortable sleeping temperatures in summer
High cooling costs
Running fans in an air condition home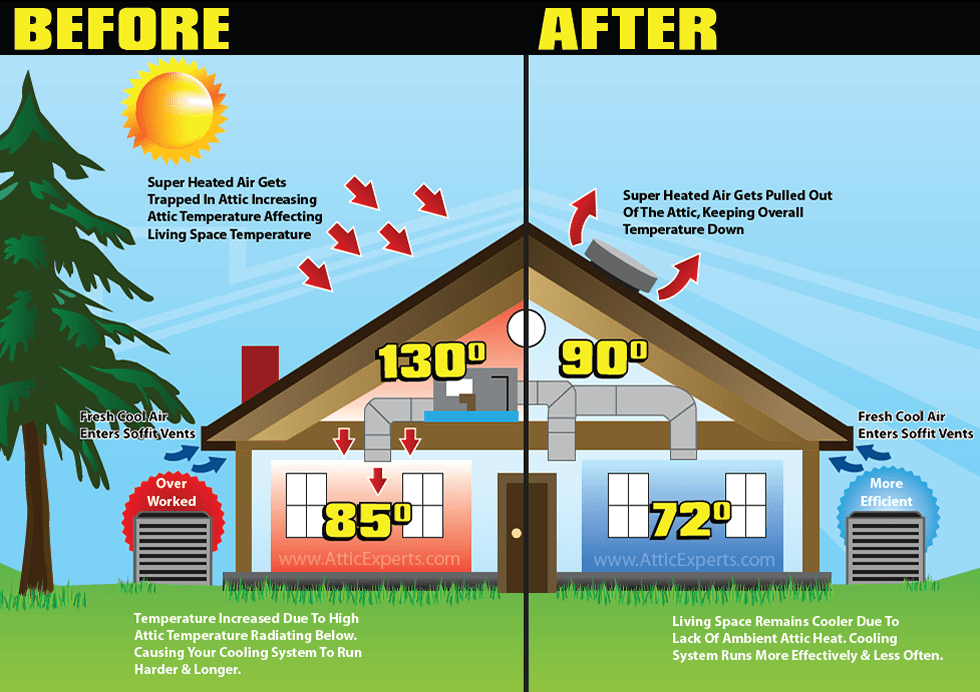 AN UNVENTILATED ATTIC
An unventilated attic can reach 150 degrees in the heat of summer, 50 degrees higher than it should be.
An overheated attic can bake asphalt shingles on the roof and cause them to deteriorate. And it can cause your air conditioner to work harder than it needs to and send your energy bills soaring with the temperature.
CUT COOLING COSTS & IMPROVE LIVING SPACE COMFORT
Proper attic insulation will help keep heat from transferring to the living spaces below. Minimum attic insulation for energy-efficient homes is an R-39. Many homeowners opt for R-60 for extra comfort and savings.
Static intake vents typically installed at the eave coupled with static exhaust vents installed higher on the roof provide cross ventilation.
An attic fan can assist cross ventilation of your attic. Attic fans are equipped with a thermostat. When your attic heat rises to a set temperature the fan is automatically activated to exhaust the hot air.
Recommended attic ventilation is one square foot of venting area for every 300 square feet of floor space.
Here is a link to read more from the EPA on attic heat>
WE ARE THE ATTIC EXPERTS
We are an insulation and attic ventilation contractor serving customers in Chicago the Suburbs. We offer free attic inspections. Call us today at (630) 941.3800.