If you have insulation in your attic, you should also have intake vents. Typically, intake vents are installed at the eave or soffit. Intake vents allow external air to flow into your attic and expel stale attic air through exhaust vents placed higher on the roof. Intake and Exhaust vents help your attic to breathe. Click here to learn more about attic air circulation and ventilation>
VENTILATION SCIENCE
Want to understand the science behind roof and attic ventilation? Check out this excellent crash course by Joseph Lstiburek.
If you have insulation in your attic, it is important that you prevent the insulation from blocking intake vents. Baffles also called rafter vents. attic baffles, insulation baffles, or vent baffles are designed to prevent insulation or other debris from blocking airflow into the attic.
HOW DO BAFFLES WORK?
When installed properly, baffles channel airflow up and over any insulation, into the attic. Baffles are typically made of foam and can come in different colors.
HOW ARE BAFFLES INSTALLED
Baffles are installed anywhere you have an intake or soffit vent in your attic. It is important that baffles are installed level.
ARE BAFFLES EXPENSIVE?
Baffles are inexpensive to install and the cost is easy to offset when you consider the cost of mold mitigation or moisture damage to insulation or roof structures.
BLOCKED INTAKE VENTS?
It can be difficult to tell if you have proper intake venting in your attic. Many homeowners that see vent screens at the soffit mistakenly assume they have attic vents. A vent screen without a vent hole into the attic isn't providing the needed airflow. Fortunately, adding proper ventilation is an affordable attic upgrade.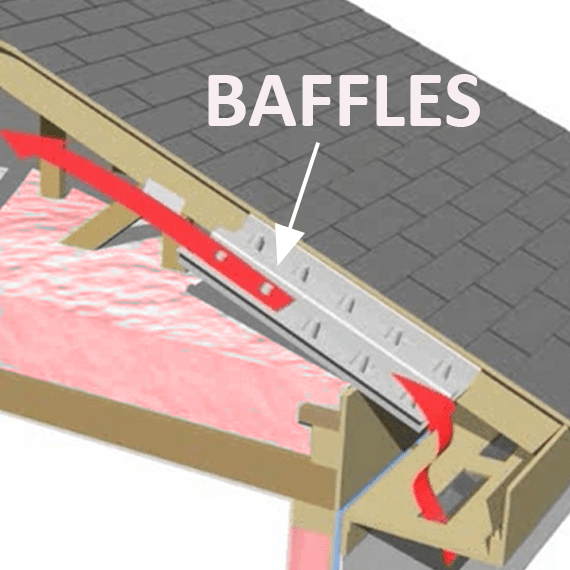 Watch this brief video of a home we did in Aurora that didn't have proper vent holes>
FREE ATTIC INSPECTIONS – THE ATTIC EXPERTS
We offer a free attic inspection that includes a full assessment of your intake and exhaust venting. Call us to schedule an inspection today at 630.941.3800