WHY IS MY ATTIC SO HOT?
The heat from the sun beats down on your roof, especially during the summer months.  Unless you have giant trees covering your home, the solar rays from the sun can beat down on your home for up to 12 hours a day during the summer months.
As a result, heat can build up in your attic reaching temperatures as high as 130 degrees if the attic isn't properly configured to minimize heat buildup.
HEAT FROM YOUR ATTIC CAN TRANSFER TO LIVING SPACES
The heat buildup in your attic can transfer to the living spaces below. This leads to higher utility costs and excess wear and tear on your air conditioner.
A HOT ATTIC CAN ALSO IMPACT THE LIFE OF YOUR ROOF
A hot attic can also lead to premature aging of your roof. The increased temperature of the roof can lead to shrinking and cracking of shingles and could over time lead to warping of the roof sheathing, the base of your roof to the shingles attach to.
HOW TO COOL A HOT ATTIC?
There are a few things that can help cool a hot attic, proper attic ventilation, and attic insulation.
ATTIC VENTILATION
Sufficient roof ventilation, also call attic ventilation, is a critical component of managing heat build-up in the attic.  To get a crash course in roof ventilation click here> 
GOOD ATTIC AIR CIRCULATION
When the air in your attic is properly circulated, it prevents heat buildup and keeps your attic cooler. Proper attic air circulation is accomplished by intake and exhaust ventilation.  Intake vents allow air into the attic space to displace hot air and force it out of exhaust vents. Click here to learn more about intake vents>.
Exhaust vents allow hot stagnant air to exhaust from your attic. Click here to learn more about exhaust vents>
ATTIC FANS
An attic fan can dramatically improve attic air circulation by drawing cool air into the attic and expelling hot air faster than static air vents. Click here to learn about attic fans>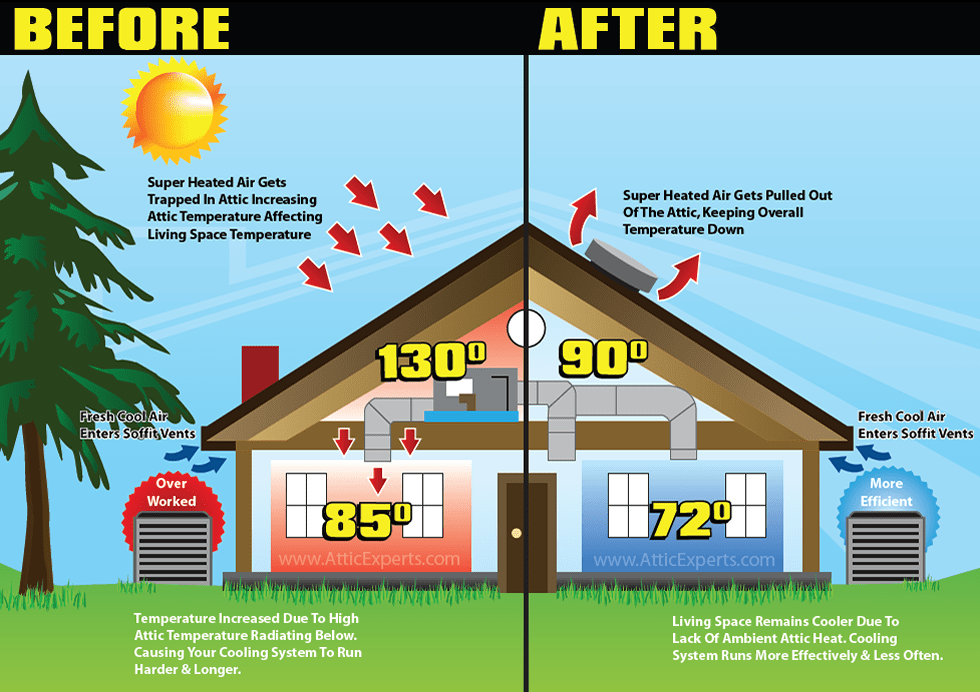 PROPER ATTIC INSULATION
In addition to proper ventilation, good attic insulation will help to prevent attic heat from permeating living spaces. This can help manage summer cooling costs and improve living space comfort. Click here to learn more about attic fans.
THE ATTIC EXPERTS
We are The Attic Experts – we have been providing insulation and attic ventilation services to Chicagoland customers for over 30 years. We offer free onsite attic inspections. Call us today at 630.941.3800